Hello, idiot hookers! Welcome to the Scream Queens Wiki, a wiki that serves as a collaborative encyclopedia of information and details on the FOX horror-comedy television series, Scream Queens. As of this moment, this wiki has 11 users and 4 admins maintaining 245 articles, and we are always hoping for new contributors to make this wiki a strong community. If you'd love to take part on this journey with us, feel free to help by creating or editing articles and keeping this wiki as friendly, cooperative, and accurate as possible! Don't forget to read our policies before starting to edit. Thanks, and enjoy!
Note: This wiki features spoilers of episodes and plotlines, so please continue browsing at your own risk.
Today is January 21, 2018, and there are 108,999 edits on this wiki.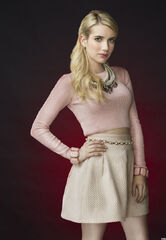 Chanel Oberlin
is a main character on
Scream Queens
. She was the president of Kappa Kappa Tau until she became the co-president along with Zayday Williams in Seven Minutes in Hell. She's the leader of her own clique The Chanels and the most popular girl at Wallace University, until The Final Girl(s), when Hester Ulrich incriminates her for the murders at the school. Nowadays she is serving a life sentence at the Palmer Mental Institute, along with Chanel #3 and her best friend Chanel #5. She is portrayed by Emma Roberts.
Chanel is ruthless, selfish, and fashionable. All her life, all she wanted to do is to have a great boyfriend like Chad, be the president of Kappa Kappa Tau, and rule the roost. When this finally happened, she became the most popular and the meanest girl of Wallace University.
Chanel is not a nice person, and usually says whatever goes through her mind. She likes to insult people and does whatever she wants. Typically, Chanel considers everyone an enemy and inferior than her. She has a very snotty attitude and she can be quite a bully to other people, and even treats poorly her "best friends", The Chanels. Read more
Refresh for another featured article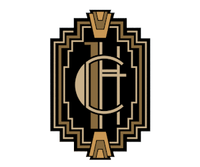 As of May 15, 2017, Scream Queens has been officially cancelled by Fox after a two season run.


Seven Minutes in Hell is the sixth episode of the first season of Scream Queens, and the sixth episode overall. It was written by Ryan Murphy and was directed by Michael Uppendahl. It had its official release on Tuesday, October 20, 2015 on Fox. After this episode, there was a two-week break.

In an attempt to protect herself from the killer, Chanel makes a surprising decision, which leaves Zayday in a position of power. To stay close to each other, the girls of Kappa Kappa Tau host a slumber party, but when a shocking discovery is made, not everyone will survive the night. Read more
Ad blocker interference detected!
Wikia is a free-to-use site that makes money from advertising. We have a modified experience for viewers using ad blockers

Wikia is not accessible if you've made further modifications. Remove the custom ad blocker rule(s) and the page will load as expected.