Help!
This article is a stub, please help the wiki by expanding it.
Chanel-Cathy Relationship

General Information
Intimacy level:
Frenemies
Cathy hired Chanel at C.U.R.E Institute Hospital
Friendship history:
Started in Scream Again
Friendship status:
Active
Rivalry history:
Started before the Pilot
Rivalry status:
Active
Chanel-Cathy Relationship
is about the rivalry between
Chanel Oberlin
and
Cathy Munsch
.
History
Chanel Oberlin is informed by Agatha Bean that Cathy Munsch needs to see her right away. Chanel is later seen in Cathy Munsch's office listening to Cathy. Chanel insults Cathy by calling her a lesbian, and Cathy tells Chanel about how the past Dean passed away and she's in charge now. Chanel says that the passed Dean passing away is suspicious inspecting that Cathy killed her.
Cathy lists down how
Kappa Kappa Tau
is causing problems, and mentions what happened last Spring. Cathy believes that Chanel put the acid in
Melanie's
spray tanner, but they are later interrupted by
Gigi
. Chanel leaves telling Cathy that Chanel's father is the largest donor to the University.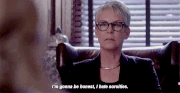 Chanel and Cathy had no direct contact with each other, but Chanel told Grace about Cathy's alleged involvement in leading the cover-up of Sophia's death 20 years ago.
Gallery